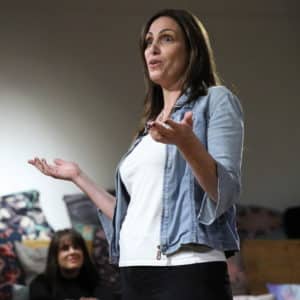 Ilana Moncarz was born in Buenos Aires, Argentina in 1977. Trained in dance, singing and musical comedy, she began very young as a model and TV host, soon enough she discovered her skills as a producer, and developed a career behind the scenes on television, radio and the fashion industry.
She lived in Argentina, Brazil, Italy and the Dominican Republic. She currently resides in Israel with her husband and 5 children.
During the past years she studied with Professor Mario Saban about Kabbalah applied to psychology & advanced studies of the applications of the Tree of Life symbolism in therapy for personal development. In Israel was formed in Methods and Management of Startups – VC and Startup relationship.
Ilana Is a certified trainer of Points of You® & the Amabassador for PhiEconomy.org in Israel. Currently she is part of the Blockchain Hub Spain – BHS – team of operations in Israel.
Ilana is a curious person on the development of new ventures, entrepreneurship and innovation. Passionate about supporting entrepreneurs as change actors and socio-economic development, collaborator in areas of Government and Education.
With 10 years of experience in the area of personal development for individuals, teams and managers – offering the opportunity to learn and grow. She have been recognized for her quick learning skills, problem solving, planning and developing powerful negotiations. Very persistent, determined and tireless worker with a commitment to make possible the impossible and never take a "no" as a final response.
A serial generator of ideas and efficiently manage multiple tasks with a focus on the details and ability to comply in a timely manner for collaborative work focused on "win win", strategic partnerships.
Last, but not least, Ilana is an energetic, fun, curious and fighter who enjoys outdoor activities, traveling and spending time with her family, dancing, singing and always being on the move!