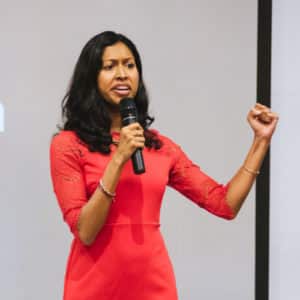 Successful Love & Relationship Mentor Sarika Jain is a storyteller, engaging workshop leader, and creator of road-tested tools that show professional women and men how to get the love they deserve. Hundreds of people go on amazing dates, and attract lasting relationships, as a direct result of tips she shares to advance their success.
Sarika's Speaker Introduction:
Successful Love & Relationship Mentor Sarika Jain shows success-oriented 'go-getter' men and women how to attract the relationship of their dreams. Sarika created the "Successful Dating & Relationship Mastery" coaching program and the Soulmate Through Synchronicity: 5 Essential Steps to Finding the One Workshop to teach those serious about dating in a healthy manner, and manifesting long-lasting, joyful and authentic relationships.
Sarika is on a mission to guide millions of people around the world to experience true love and happiness in their lives, starting now.
A 'go-getter' herself, Sarika has a successful background as a Wharton MBA graduate, and has worked with Merrill Lynch, The World Bank, Bain & Co and Yahoo!. However, what she most values is her 'real education' of experiencing the trials and tribulations of the heart, and finding true love in her life. She is an experienced psycho-spiritual counselor and energy healer.
In her free time, Sarika teaches yoga and meditation, and is a coach and healer. She lives with her husband, Krishan Patel, in New York City, and lives a playful, passionate life. For their honeymoon, they traveled to Bali for a month!
Known as a word wizard who helps people create Rockstar dating profiles, and a 'remover of obstacles' in the way of love, Sarika's clients describe her as "a relationship sorceress" who can whip up a soulmate in as short a time as a week!