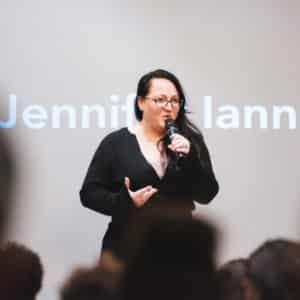 Jennifer Iannolo (ya-KNOW-low) is a global speaker and empowerment catalyst. A
lifelong entrepreneur, she is the founder and CEO of IMPERIA™, an innovation incubator
focused on women creating social impact projects around the globe.  IMPERIA brings together women from 195 countries to develop their leadership and provide a strong sense of community, with programming based on Jennifer's methodology of Self-Directed Empowerment™.
She recently published No One is Coming: An empowerment manifesto, to illustrate how one can become one's own renewable, sustainable source of power. Jennifer speaks on this and entrepreneurship from the United Nations to Harvard University, and corporate headquarters like Konica Minolta. She is a featured speaker on women's entrepreneurship for the U.S. State Department, which has sent her on tours through India and Nepal. When she's not on stage, Jennifer is at IMPERIA's headquarters atop the World Trade Center, where she and her team have dedicated themselves to building resilient female leaders, including the recent $1M winner of the WeWork Creator Awards Global Finals. She is also a mentor for Nile Rodgers' We Are Family Foundation.

A pioneer in digital content, Jennifer co-created Culinary Media Network® — the world's first all-food podcast channel — in 2006. Her show, Food Philosophy, was featured on Sirius Radio and sponsored by major brands including Barilla, GoDaddy and Hamilton Beach. Jennifer's food career was featured in the documentary Eat. Cook. Love., and her culinary adventures have been profiled in media from television commercials to Bloomberg, Businessweek, and a New York Times bestseller.

While an undergraduate at NYU's Stern School of Business, she built her second company, and chaired a conference on social entrepreneurship (before it was an official major or buzzword). Today she collaborates with leaders in social impact, including UN Women and 1M1B – A Million for a Billion. Jennifer calls New York City home, and the globe her playground