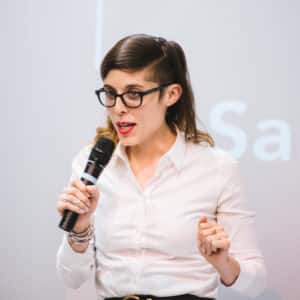 As an English as a Second Language (ESL) teacher, I would start my days with sunlight peeking through metal-guarded windows and a feeling of wonder. As I drafted questions for lessons, I considered a very different inquiry, one asked daily by a student named Erick: "Why am I in ESL if I speak English?" My pursuit of his question transformed my career. Years later, it moved me to elevate students in a movement for school integration. Today, it speaks to a lesson that will illuminate my career in public law: the questions of students impacted by inequality are an abundant resource for solutions for education access. I intend to use my law degree and my insight on student-led advocacy to inspire a movement of diverse attorneys who transform the legal profession with a stand for educational equity.
But first, allow me to share the journey that led me to pursue law. I made Erick's question the topic of my thesis. I discovered that schools had misplaced fluent English speakers in ESL and left them unprepared to pass the exit exam. The longer a student remained in ESL, the less likely they were to graduate. For this work, I received an academic award. Despite the recognition, as a Latina, a first-generation college graduate, and a member of the LGBT community, this discrimination moved me to action.
In response, I founded IntegrateNYC, the first organization to convene students across segregated schools to design solutions for diversity and equity in education. Student inquiries guided our work. When Bronx students asked where they could meet "Manhattan kids," we orchestrated school exchanges and published student testimonies in national news. Together, we convened students across fifteen districts to create the first Youth Council on Integration. When aspiring Latina cheerleaders were denied an official team while predominantly white schools had over forty teams, we sued the Department of Education for disparate impact. When first-generation students asked if we could use affirmative action in high schools, we held a coding camp and redesigned the enrollment algorithm. Just last week, Mayor DeBlasio announced he would make history and implement the student-designed policy platform as the blueprint for real integration in the nation's largest school system.
During my first year, I was elected to the board of the Yale Latinx Lawyers Association. With this position, I joined my networks from Outlaws – LGBTQ+ Law Student Association, First Generational Professionals, and Yale Law Women, to build fundraisers and forums for local advocates. I also co-designed a course on movement lawyering.
In my second year, I intend to join students to work on litigation and community mobilization efforts with the IntegrateUS National Network. I hope to start my days with the same feeling of wonder as I did years ago but this time, surrounded by a diverse community of aspiring attorneys who transform the future of student leaders and legal professionals.