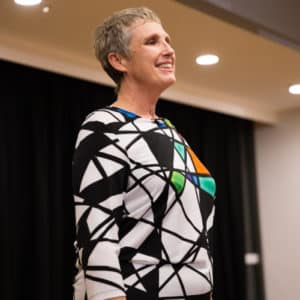 Johanna is thrilled to be part of the Fearless team and brings to the role a rich and diverse herstory of training, coaching and facilitating communication processes with small and large groups and one on one coaching experience. She has a passion and fascination with the complementary relationship of the body within the dynamics of communication. She developed Moving Communication, to reposition the body as a dynamic element to move communication either internally (self – talk) or externally (group) and has designed and delivered Training, Coaching and Presentations programs for a range of clients in the community and corporate sector.  Her formal studies include a Diploma in Movement and Bachelor of Arts in Communications, Accreditation in Results based Coaching.
For 30 years she has been an improviser, facilitator and trainer at Playback Theatre Sydney – a rich and dynamic communication forum that uses improvisation and personal storytelling to explore themes and issues. In addition, she has experience facilitating Leadership Presence training programs including Storytelling for business communication throughout the Asia Pacific region with The Ariel Group.
More recently she has focused on systems theory and trained with The Bateson Institute as a Warm Data lab host. Applying systems approach to change she and a group of facilitators have initiated a Cooperative called Wicked Elephants exploring how we collaborate and communicate in the field of wicked problems.