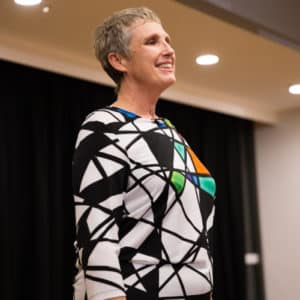 Johanna is passionate about getting people moving and utilizing movement and action for deepening, expanding and strengthening communication. A core theme of all the work she does is listening to not only our mind but our heart and body in equal measure.
For many years now she has been exploring the complementary relationship of communication and the performing arts. For over two decades she has worked as an actor and collaborator on various award-winning theater projects both nationally and internationally.
For Johanna theatre is about authentic communication – which is encompassed in the process of creating a show, in the performance itself and more specifically in the theatre style she practices, Playback Theatre. She is a long-term improviser, facilitator and trainer with Playback Theatre Sydney – a rich and dynamic communication forum that uses improvisation and personal storytelling to illuminate and explore specific topics. Playback Theatre Sydney is commissioned by Government, Corporate and Community organizations to perform roles of trainer, role play and performance.
In addition, she facilitates Leadership Presence training programs throughout the Asia Pacific region, with The Ariel Group, a leading US and more recently Australian based Executive Training Company. Johanna draws on her theatre and communication experience to design and deliver her own experientially based Training, Coaching and Presentations programs for a range of clients through Moving Communication.