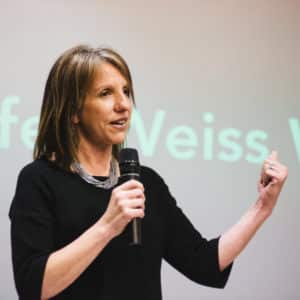 Jennifer Weiss-Wolf is Vice President for Development at the Brennan Center for Justice, a nonpartisan law and policy institute that focuses on improving the systems of democracy and justice. She oversees all fundraising strategy for the organization, including leading the Center's 20th anniversary campaign. She is also the Brennan Center's inaugural Women and Democracy Fellow. As part of her work to commemorate the Center's 20th anniversary, Weiss-Wolf conceptualized and co-edited the Brennan Center's 2015 volume, Legal Change: Lesson's from America's Social Movements. The collection shares accounts from decades of legal advocacy in America and features case studies ranging from the victorious fight for marriage equality to partisan wrangling over the right to vote, to understanding modern movements for reproductive freedom, the environment, criminal justice reform, policing, the Second Amendment, and abolition of the death penalty. Weiss-Wolf is a fierce advocate for and frequent writer on issues of gender, feminism, and politics in America.
Dubbed the "architect of the U.S. campaign to squash the tampon tax" by Newsweek, Weiss-Wolf is the author of Periods Gone Public: Taking a Stand for Menstrual Equity (Arcade, Oct. 2017). Lauded by Gloria Steinem as "the beginning of liberation for us all," Periods Gone Public earned starred reviews by Library Journal and Publishers Weekly, which credited its "thorough research and detailed history." The Washington Post called it "a riveting read … and a promising call to smart activism." Weiss-Wolf is a regular contributor to Ms. magazine. Her writing and work have appeared in The New York Times, TIME, Newsweek, Salon, Bloomberg, Cosmopolitan, Marie Claire, Harper's Bazaar, Glamour, Bustle, Rewire, Vice, and NPR among others.
She is a contributor to the Young Adult book, Period.: Twelve Voices Tell the Bloody Truth (Macmillan, May 2018). Weiss-Wolf is an advisory board member of ZanaAfrica Foundation. Prior to joining the Brennan Center, Weiss-Wolf was a Development Consultant specializing in foundations strategy for Legal Services NYC; Vice President, Development for the Pro Choice Resource Center; and Grants Manager for the American Civil Liberties Union. An entrepreneur at heart, she took a decade-long hiatus from the world of nonprofits to envision and co-found Milk Money, a women-owned company that creates and franchises stores that sell recycled children's clothing (featured by The New York Times as a "neighborhood joint in the family way").
Weiss-Wolf earned a J.D. from the Benjamin N. Cardozo School of Law, where she was Editor-in Chief of the Cardozo Women's Law Journal, and an A.B. from Lafayette College. She can be reached at jennifer.weiss-wolf@nyu.edu.