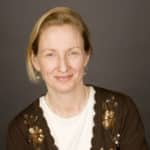 A technology strategist with a broad background in B2B collaboration technologies, product innovation and growth strategy, Jennifer Thayer has advised on a broad range of projects, lending an unorthodox approach to business development, risk management and growth. Experiences with failure and survival have deepened Jennifer's appreciation for good governance, a topic on which she writes and speaks with fervor and eloquence.
A two-time Fulbright scholar to Egypt, Jennifer earned a PhD from New York University in Middle East History and a BA from Colby College.
Jennifer is a hobbyist potter, because in clay, you're always riding the knife edge of failure, a lesson in uncertainty that all advocates for good governance will appreciate.