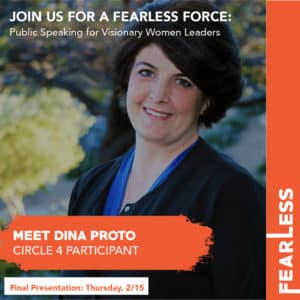 Dina Proto's spirited approach motivates engagement to foster change. She accomplishes that by creating compassionate awareness of the inequalities created by unconscious bias, how they are formed and their lasting impact on society.
Dina calls on her more than 20 years of healthcare experience to help audiences understand their own unconscious bias and it's impact on others.
A skilled speaker, trainer, and author of Identity Impact, Dina, facilitates effective and compassionate conversations around the emotional subject of gender identity. She brings her experience caring for patients and her roles as mother, entrepreneur, and advocate for the LGBTQ community to her consulting work with the education, corporate, health care, small business, and government sectors.