Danielle Kristine Toussaint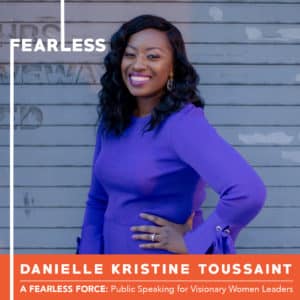 Danielle Kristine Toussaint is founder and CEO of She Thinks Purple, a women-powered creative agency that partners with impact-driven entrepreneurs and executive leaders to tell inspiring brand stories and change the world.
A storyteller, strategist and social entrepreneur, Danielle has been the writing pen behind op-eds and speeches for Huffington Post, Forbes.com, and TEDx. She's author and publisher of the e-book "Dare to Think Purple: The Female Founders Guide" and the producer and lead creator for PurpleCON, a brand and business acceleration conference for tech innovators, founders, and investors on a mission to make money and make a difference.  Her book publisher is New Degree Press.
Danielle holds a B.A. in Political Science and African American Studies from Yale University and a M.S.Ed from the University of Pennsylvania Graduate School of Education. She's a graduate of Founder Gym, a global virtual accelerator for new majority tech founders.
Born in the US, with family roots in the Caribbean, Danielle speaks English, Haitian Creole, Spanish, and a little French and Jamaican Patois, too.