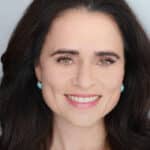 Concetta Raz is the Founder and CEO of Upward On, a Talent Acquisition firm with a focus on Real Estate, based in NYC.  She is also the Founder and CEO of Team Fearless, a Sales Organization within Rodan + Fields, mentoring a team of independent consultants in the United States & Canada.   
Concetta is passionate about career development, personal growth, and entrepreneurship; has coached and mentored hundreds of individuals to build their own brands within the real estate and skincare industries.
Concetta is a single mom of 8-year-old twin girls; polyglot (5 languages), native New Yorker and actively involved with a local charity, the Summit St Organization doing food pantry in Brooklyn.