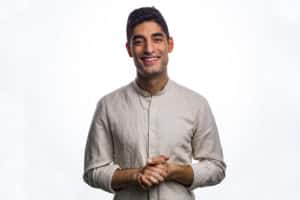 With past lives as a public health practitioner, co-founder of an operating California-based biotech company, NY Times-published cartoonist, and creative strategist for nonprofits and public companies alike, Mohammad has always focused on producing products and programs that bring people together.
Mohammad is currently using the power of food to bring people together and celebrate their commonalities by making the growing need for faith-based (religious) foods more accessible to individuals and organizations that want to foster inclusive spaces (and dinner tables!). Mohammad entered the food world by accident when he produced the first 2-in-1 "Interfaith Meat" that was both (Zabihah) Halal and (Glatt) Kosher at the same time for a "Shabbat Salaam" he wanted to organize. Beyond following the most Orthodox laws of each faith to help all denominations eat from the same plate, Interfaith Meat helps food businesses save time, money, inventory space, and food waste. Beyond "Interfaith Meat," Mohammad offers other food products through his latest venture Abe's Eats (AbesEats.com).
Outside of food, Mohammad has 5+ years experience working with the c-level executives of private and public companies across industries on branding, program development, and general strategy. He is a public speaker with past appearances at TED, Columbia University, Food Lab, Specialty Foods, and IFC Films, to name a few.
Mohammad is a Johns Hopkins alumnus where he studied public health. He was the University's nominee for the Truman, Schwarzman, Marshall, Mitchell & Rhodes Scholarships. He was awarded a George Mitchell National Scholarship and attended Trinity College Dublin on a full scholarship. In his spare time, he loves to work on his 1979 VW Bus and produce "Shabbat Salaam" interfaith dinners.